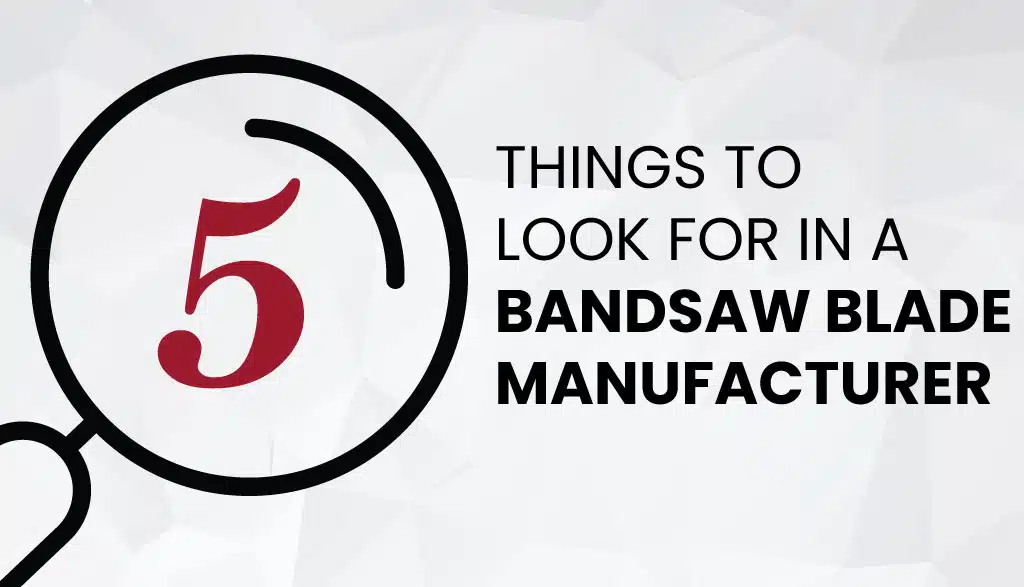 If your business uses bandsaws to cut high volumes of foam, meat, cardboard, or other materials, then working with a reliable bandsaw blade manufacturer is critical to the success of your operations.
For the cynics out there, we'll be the first to say that we're biased when it comes to this. However, in the past 75+ years, we've heard from dozens of customers who have had bad experiences with other bandsaw blade manufacturers. At best, their experiences lead to frustration or resentment. At worst, they lead to machine downtime or even an unusable end-product.
We'd like to stop any of that from happening to you, which is why we put together this short list of what you should look for in your bandsaw blade manufacturer. Let's dive in.
Good Communication
Communication is key for personal relationships, and the same can be said for business relationships, possibly even more so. Look for a manufacturer that borders on being over-communicative. If you're waiting more than 24 hours to hear back from a sales or customer service representative, that's a red flag.
Short Lead Times
When you place an order for bandsaw blades, you don't want to wait 8 weeks to receive your order, right? That's why it's important to work with a manufacturer that has good relationships with their steel vendors and plans ahead to ensure they have the inventory you need ready to go when you're ready to receive it.
Economical Blade Pricing
A bandsaw blade manufacturer that is looking to gouge you on blade costs is not the right partner for your business. That doesn't necessarily mean that premium blades aren't worth the cost, but it does mean you should think carefully about how much you're paying for each blade vs. how much work or material you're getting out of it.
Check out our video blog "Explaining Blade Life & Cost Per Cut" to learn more about this.
Consistent Blade Quality
A bandsaw blade manufacturer can prove themselves reliable by consistently producing high-quality blades. Now, when we say high-quality blades, we mean blades made from premium steel with durable welds and precise bevel geometry that achieve similar results with each use. While this might seem obvious, we've had many customers complain that their previous manufacturer's blade quality varied greatly from order to order.
Poor blade quality can lead to premature failure, which means more machine downtime and less productivity at the end of the day. Nobody wants that.
Bandsaw Knowledge
When a blade breaks prematurely, it's not always because there's an issue with the blade or the steel. Sometimes, it can be due to incorrect bandsaw settings, like improper blade tension. An experienced bandsaw blade manufacturer typically has a shortlist of common incorrect bandsaw settings and can provide additional value through tips and recommendations to adjust those settings.
Searching for a new bandsaw blade manufacturer can be a daunting process. While you should keep these factors in mind during your search, it's important to remember that other things like good relationships with steel vendors or timely delivery may also indicate that a manufacturer can be a good fit for your business. When in doubt, we recommend ordering some trial blades from a manufacturer and then building your case for or against them based on how they proceed with your order.
Want to learn more about what to look for in a bandsaw blade manufacturer? Contact us today!