WIDE KNIFE EDGE BLADES
Produced from high carbon steel and joined with precise, reliable welds, Simmons' Wide Knife Edge blade is designed to fit a wide variety of machinery. This allows it to withstand variable feed rates while still maintaining a sharp edge throughout slicing, splitting, or peeling operations.
Tru-Trak®, Ultra Tru-Trak®, and
Max-Trak

Finish

Simmons offers Wide Knife Edge blades in both Tru-Trak® and Ultra Tru-Trak® finishes. While Tru-Trak blades are finished on the front and back edges to aid in the tracking of the blade, our premium Ultra Tru-Trak blades are finished on all surfaces to ensure better tracking and minimal blade movement during machine operation. For extremely tight tolerance cutting applications, we recommend using Simmons' Max-Track blades for the highest quality finish available.

All Tru-Trak, Ultra Tru-Trak, and Max-Track bandknife blades are marked with a serial number for production control and traceability purposes.
Wide Knife Edge Blades for Leather Splitting
The 85mm x 1.2mm steel used for leather splitting bandknives in tanneries is polished and tempered in three Rockwell hardness levels; Low (41-43 RC for lime splitting), Medium (44-47 RC for wet blue / chrome splitting), and High (48-52 RC for dry splitting).
Click here to learn how we can help with your leather splitting operations.
Recommended cutting applications for Wide Knife Edge blades:
All foam types
Leather
Carpet recycling
Rubber
Cork
Textiles
Consistently delivering high-quality blades has been key to Simmons' success throughout the years. Every blade goes through a final quality check to ensure all blade dimensions are within tolerance.
We stand behind our workmanship, and even when we're not at fault for blade issues, we frequently invest in analyzing the cause of the blade's failure in order to educate our customers and help them correct the source of the issue in their facility.
Double Edge Single Bevel (KSSB)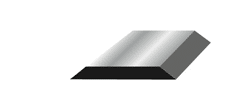 Single Edge Single Bevel (KSB)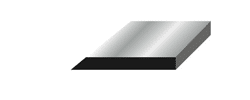 Double Edge Double Bevel (KDDB)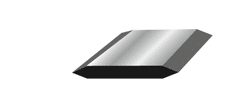 Single Edge Double Bevel (KDB)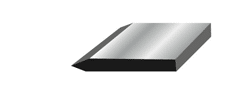 Custom bevel geometry is available upon request. Just specify the length of the desired bevel on each side.
Like what you see? Request a quote and a member of our team will be in touch shortly!