FILED-IN-THE-GULLET BLADES
Simmons' Filed-in-the-Gullet blade has V-shaped, individually ground teeth that are sharpened through the bottom of the gullet. This unique blade was specifically designed for perforating applications mainly seen in the packaging industry. Due to the unique requirements of these blades, it's best to provide a sample or drawing of the blade you need when requesting a quote from our team.
Available in both carbon and stainless steel, Filed-in-the-Gullet blades can be custom crafted to include whatever tooth configurations and/or blade dimensions your operations require.
Simmons also offers a double edge Filed-in-the-Gullet blade typically used in foam pouring and fabrication applications.
Recommended cutting applications for Filed-in-the-Gullet blades:
Plastic film
Aluminum foil
Paper products
Foam pouring cutoff
Consistently delivering high-quality blades has been key to Simmons' success throughout the years. We stand behind our workmanship, and even when we're not at fault for blade issues, we frequently invest in analyzing the cause of the blade's failure in order to educate our customers and help them correct the source of the issue in their facility.
Simmons doesn't offer a standard Filed-in-the-Gullet blade, but we can produce a variety of tooth configurations upon request. Just specify what you need when ordering from our team.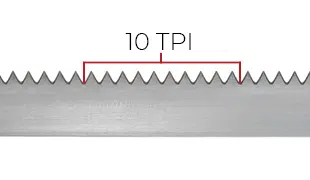 Like what you see? Request a quote and a member of our team will be in touch shortly!