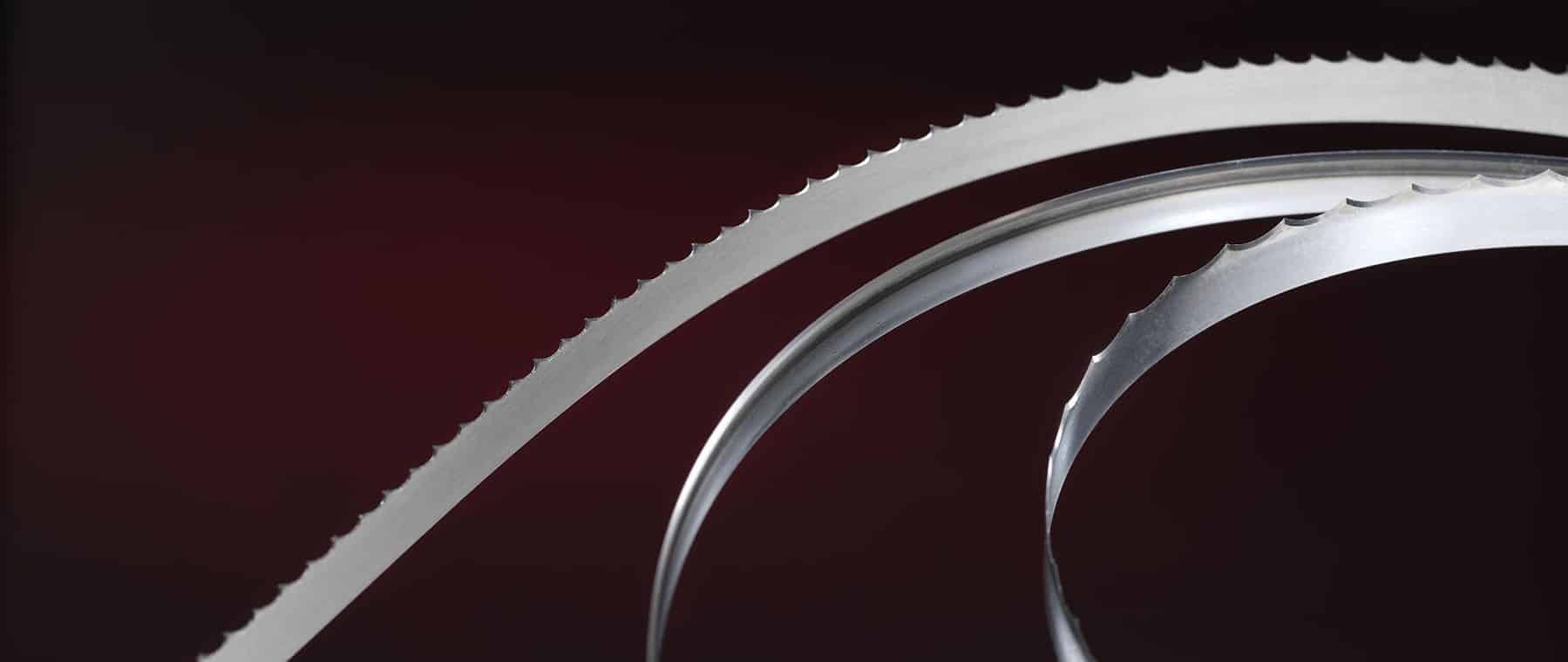 The food processing industry is one of the largest in the world. It can be broken into hundreds of sub-industries, some of which are massive in their own right. That being said, it just makes sense for a business like Simmons to establish and cultivate a stake in food processing, which is exactly why we've done so. 75 years ago, Simmons started producing bread slicing blades. Then, more than 20 years ago, Simmons expanded into making blades for other food processing applications. Those decades of experience have provided us with the knowledge to determine which blades work best for each application, and now we'd like to pay it forward by sharing that knowledge with those who might need it.
Butcher Blades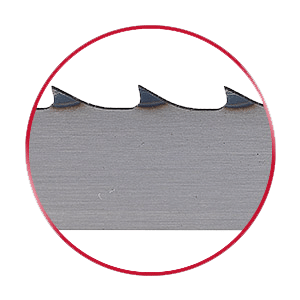 Unlike the other blades listed here, Butcher blades fall into the category of sawing blades, not slicing blades. This is because, when in use, Butcher blades typically end up removing some material as they cut or saw through. Butcher blades are considered the most aggressive type of food processing blades, and they are frequently used for carcass splitting and bone-in meat cutting operations.
SimCut® Butcher blades are:
Compatible with Biro, Butcher Boy, and Grasselli machines (among others)
Available in both carbon and stainless steel
Scallop Blades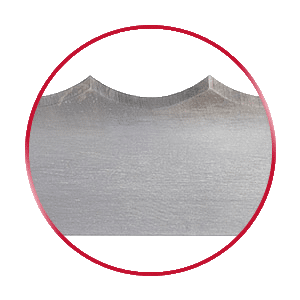 Originally sold as bread slicing cutlery, the Scallop blade is the first blade that Simmons ever produced in 1946. Today, Scallop blades are one of the most versatile edge types on the market. They still have their place in bread slicing applications, but nowadays they see more frequent use in the meat industry as they've proven incredibly effective at slicing boneless meat like chicken, beef, filets, or deli meats (ex: salami, pepperoni, etc.) and cheese.
Simmons has also seen success with customers using Scallop blades in both large and small-scale lettuce, spinach, and spring mix harvesting operations. Simmons' Scallop blades are:
Compatible with Grasselli, Grote, and Marel slicers (among others)
Available in both carbon and stainless steel
Replacement Food Processing Blades for Bandsaws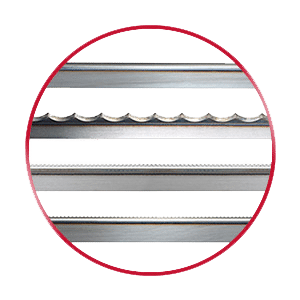 Besides Scallop blades, there are a few other bandsaw blades and edge types that can be used in boneless meat cutting and further processing operations. Are you cutting deli meats or cheese with a Grote slicer? How about large quantities of bacon? Simmons offers a full line of Knife Edge, V-Tooth, and Scallop blades that utilize hardened edges and unique bevel geometry to produce a better yield in food processing applications.
Simmons' replacement blades for bandsaws are:
Compatible with Alimec, Grote, and Marel slicers (among others)
Available in both carbon and stainless steel
Replacement Food Processing Blades for Reciprocating Machines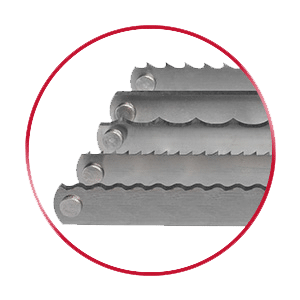 Simmons has spent years experimenting with and perfecting our reciprocating Butcher, Narrow Knife, Scallop, and Mini B-3 blades for applications ranging from bone-in meat cutting to large-scale bread slicing operations. Of course, when it comes to reciprocating blades, not every machine is built the same. That's why Simmons offers custom hole and rivet configurations, ensuring that our blades can run on a wide variety of machinery.
Simmons' replacement blades for reciprocating machines are:
Compatible with Grasselli and Oliver & Berkel slicers (among others)
Available in both carbon and stainless steel
Simmons' investment in the food processing industry has saved our bacon more than once, which is why we've continued to work hard to meet and exceed the expectations of our customers in the bread, meat, and produce industries. Throughout the last two decades, we've expanded our product offering and increased our customization capabilities, which has allowed us to offer new features like specialized edge types and multiple bevels for material that requires more unique cutting or slicing action.
Think you've got a request that'll stump us? Contact us today so we can prove you wrong.