*All products listed on this page are manufactured by Simmons Knife & Saw. Simmons is not affiliated with, endorsed by, or sponsored by Oliver Packaging & Equipment Company, Berkel, Inc., or any of their subsidiaries or affiliates.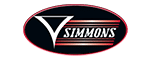 ©2021 SIMMONS KNIFE & SAW. All rights reserved.
No images may be utilized, reproduced or transmitted in any form or by any means without prior written permission of Simmons Knife & Saw.