BREAD SLICING BANDS
Simmons' bread slicing Scallop bands are produced in matched sets so they can be installed on commercial bread slicers. The Scallop blades feature a hollow ground cutting edge, meaning each Scallop is individually ground to perfection, resulting in the ultimate slicing blade. This superior cutting edge produces less crumbs (some customers have seen reductions up to 50%) and leaves no pilling on the bread while giving clean, straight cuts.
The standard blade is 3/8" x .016" with a 3/8" pitch. This has proven to work well on all types of bread, sometimes lasting 2-3 times longer than the leading competitor. All of these factors contribute to less maintenance/down time, which equals cost savings for our customers.
Consistently delivering high-quality blades has been key to Simmons' success throughout the years. As part of our reliable welds guarantee, if a Simmons blade breaks at the weld, just let us know and we'll replace that blade for you.
We stand behind our workmanship, and even when we're not at fault for blade issues, we frequently invest in analyzing the cause of the blade's failure in order to educate our customers and help them correct the source of the issue in their facility.
As part of our Bread Slicing Bands production process, Simmons offers an additional option to harden the cutting edge of the blade in order to extend overall blade life.
Pitch is the distance from point to point. Standard Bread Slicing Bands have a ⅜" pitch. However, we also offer a ¼" and ½" pitch.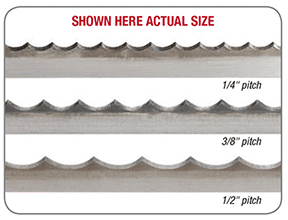 Hard Edge
Variable Set Qualities
Like what you see? Request a quote and a member of our team will be in touch shortly!